There are so many reasons why I love Atlanta! The career opportunities are endless, the cost of living is one of the best in the country, and the restaurant scene is amazing and continuing to expand. The history, arts, and culture is unmatched, the entertainment/ nightlife is always a blast, and the weather is great because you get to experience all four seasons. Let's not forget about the airport. It's the busiest airport in the world, and 80% of the U.S. population lives within a direct 2 hour flight from Atlanta- you can't beat that with a stick! This big ole' big city with a small town feel is truly the best of both worlds. Our population here is continually growing, so while I don't encourage anyone else to move here right now (just kidding), I do think you should come and visit! And when you do, here's a list of places you have to check out.
1. Ponce City Market
Ponce City Market is an inclusive "Eat, Work, Play" community housed in the historic Sears Roebuck building. The classic structure has been reinvented as a vibrant community hub housing the Central Food Hall, various shops, flats and offices, condos and apartments. There are a ton of great restaurants to choose from and it's an open floor concept, so you're able to walk around and just explore. You can also do some shopping at many of the popular retail stores they have there: Mac Cosmetics, Madewell, J. Crew, Sephora, Alex & Ani- just to name a few. You can grab some coffee/ dessert after dinner,  and you can even try the infamous King of Pops! If you don't do anything else, make sure you stop by Skyline Park on the Roof of Ponce City Market to get arguably one of the best views in the  city.
2. The Beltline
The Atlanta Beltline is Atlanta's newest outdoor space and is comprised of 22 miles of unused railroad tracks circling the core of the city's in-town neighborhoods. From trails and walkways to open green space and parks, the Atlanta BeltLine works to connect people throughout the city. You can go for a bike ride or a nice walk, you can explore the different connected neighborhoods, or you can stop at one of the many restaurants along The Beltline to grab a drink or a bite to eat. I think this would be a unique option for a date, oppose to the cookie cutter "dinner and a movie". Or you can just go with your girlfriends (or the fellas) and just enjoy a nice day out in beautiful weather.
3. Krog Street Market
Krog Street Market is a place for those who are always searching for unique, specialty creations. It was designed to be as authentic as the 1920's warehouse it occupies. They have market stalls that sell goods and of course they have a few southern-grown restaurants and retailers. When you go there, make sure you check out the falafel sandwich from Yalla or the chicken sandwich from Richard's Southern Fried Chicken. And you absolutely have to stop at Jeni's Ice Creams and try the Brown Butter Almond Brittle- my goodness, that ice cream is amazing!
4. Georgia Aquarium
I probably didn't even need to put this on the list because the Georgia Aquarium sells itself.  In case you didn't know though, the Georgia Aquarium is a must see attraction. It is the largest aquarium in the U.S., holding more than 10 million gallons of water! It is home to tens of thousands of animals (more animals than any other aquarium), including 500 species from around the world and more than 60 habitats. While there, you have to see the Dolphin show and the Beluga whales and visit all of the exhibits. Oh, and make sure your phone is fully charged- I promise you won't stop taking pictures!
5. Fox Theater
Fox Theater, known to locals as "The Fox," is an exotic styled downtown landmark that brings Atlanta the best in performance entertainment. Including Broadway shows, the Atlanta Ballet, classic feature films, and Billboard's top music concert tours. Going to The Fox is like going back to 1929, with beautiful antique fixtures, stone staircases, down steel freight elevators. If you're an interior design aficionado or a fan of globally inspired architecture, take a guided tour through Fox Theater and you won't be disappointed. If you're in town, check if there are any showings at The Fox so you can get the full red carpet experience.
6. Martin Luther King Jr. National Historic Park
The MLK Jr. National Historic Site is Atlanta's top tourist destination for a reason. The historic park includes Martin Luther King Jr.'s birth home, his grave site and memorial, and Ebenezer Baptist church, where King was baptized and his mother was assassinated. The park includes the King Center, which features exhibits about Dr. King and other American activists. Between the church and the center lives an eternal flame that never goes out in Dr. King's honor. The center is in the "Sweet Auburn District" of Atlanta, which was considered to be the Black Wall Street in the early-mid 1900's. This center is moving, emotional, and so rich in history; I can't imagine a person not leaving there impacted in some way.
7. Botanical Gardens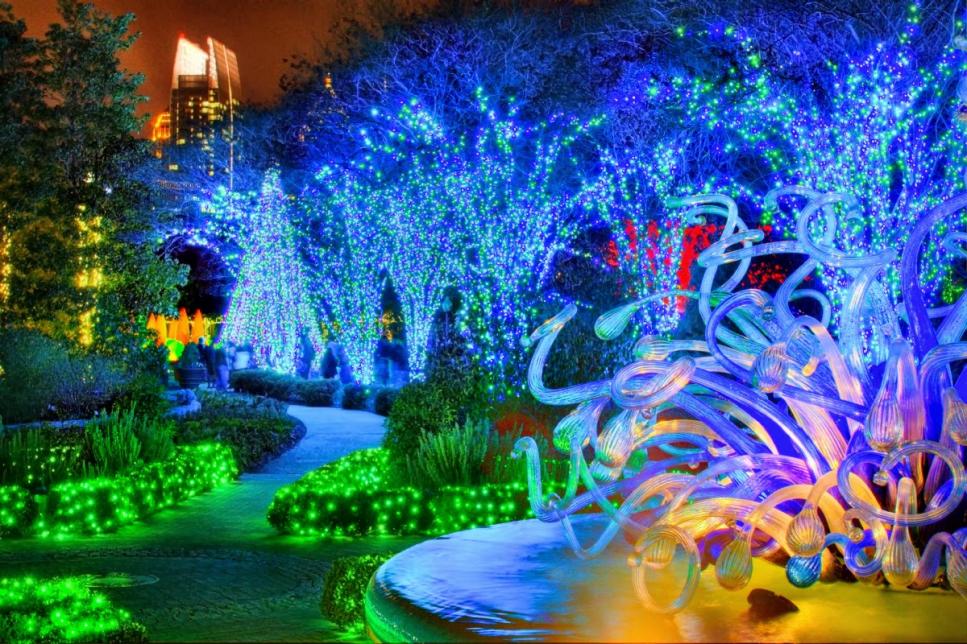 Atlanta Botanical Gardens boasts more than 30 acres of breathtaking botanical bliss, located adjacent to Piedmont Park in Midtown. The Garden has weekly shows and classes, a Children's Garden, and you can even let your kids swim in the Sunflower Fountain. My favorite time to go is during fall & winter, when they have the Holiday Nights at Botanical Gardens. During this time, the gardens are lit up with the most beautiful lights that are just breathtaking. As you can see in the picture above, the lights are absolutely astonishing! Oh, and guys, this is a premier spot to pop the question- it's exceptionally romantic and has a guaranteed beautiful backdrop. Thank me later 🙂
8. The Sundial Restaurant
The Sundial is a restaurant located on the 72nd floor of the Westin Peachtree Plaza, 723 feet in the sky, and features a 360 panoramic view of Atlanta. They offer revitalizing cocktails, seasonally inspired menus, and an exceptional guest experience. Perfect for a date night, or a night out with friends, The Sun Dial has become an Atlanta tradition. Even if you don't dine in the restaurant, be sure to stop by the bar for one of the mot breathtaking views in the city. Oh, and grab a drink while you're there 🙂
9. Piedmont Park
Piedmont Park is one of my favorite places to go in Atlanta! The park features a walking/jogging paths, picnic facilities, playgrounds, tennis courts, public swimming pool, two ponds and dog park. Piedmont Park is also home to many of Atlanta's largest annual events including the Atlanta Dogwood Festival, Atlanta Jazz Festival, the Gay Pride Festival, and Screen on the Green. My boyfriend and I used to have picnics there all the time, and now we take our daughter so she can run around in the grass. Whether you want to go running, walk your dog, go swimming, have a picnic, or even grab a bottle of wine and lay out on the green, Piedmont Park is the place to go!  If you ever see postcard pictures of Midtown Atlanta, chances are, Piedmont Park is being captured.
10. The Shops Buckhead Atlanta
Atlanta's Rodeo Drive! The Shops Buckhead Atlanta spans eight blocks of Buckhead and features everything from high-end shopping to amazing dining experiences. The ultra-walkable, eight-block complex is a place to mix and mingle in a comfortable, but luxurious setting. The retail side of things includes Hermes, Jimmy Choo, Christian Louboutin, and Atlanta-started Spanx. Dining options include Gypsy Kitchen, Southern Gentleman, Dolce Italian Restaurant, and many more. The Shops Buckhead Atlanta span from high-end to super affordable, including the first Shake Shack in Georgia.
Now that I'm at number 10, I feel awful because there are so many other places that Atlanta has to offer. As a bonus attraction, make sure you visit Stone Mountain Park…and actually hike the mountain if you wan't a good work out! I hope this list was helpful and feel free to ask questions if you need specific recommendations. I think I'll do my top 10 favorite restaurants next. Let me know what you think in the comments!
Xoxo,
Consuella ♥